The audio from the playback sources is selected in a push-button matrix called the input select. Each of the eight channels on this console has two inputs, thus multiplying the possible audio sources to sixteen. The inputs are arranged on the input select so that no great portion of input types is lost when another is selected. For instance, when the DJ needs to use the audio from the computer, the input-2 button is pressed on channel five; CD player two is sacrificed, but there are three other CD players to use. The most frequently used inputs are setup on the top row, or input-one for each channel.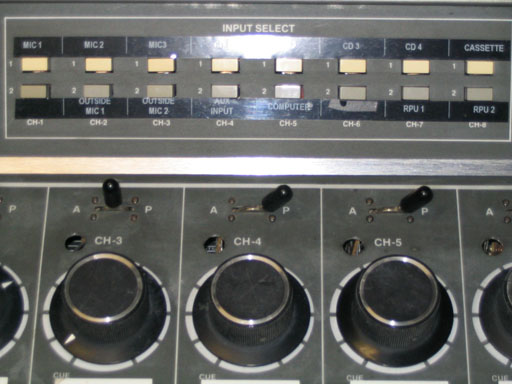 The Microphones occupy the first three channels. The DJ's mic is the only one available on channel-one. Mic-2 and -3 are matrixed with the outside mic-1 and -2 inputs. These "outside mics" can be setup for live shows on the verandah. Whenever any of the microphone channels are switched to the program bus, the speaker monitors in the studio are muted automatically to prevent feedback.
The mix levels for each channel are controlled by eight rotary pots. Some operators need a while getting used to the rotary pots rather than linear faders. Each pot has a detent at its maximum counter-clockwise position which completely mutes the channel from the mix and sends its audio to a cue speaker. Above each channel pot is a lever switch for directing the audio to either the "A" audition bus, the "P" program bus, or centered for channel off. The program bus is the line which will go on the air.
VU meters indicate the audio level on the selected bus. They are set to normally just monitor the "PGM" program bus, but can be switched to "AUD" for a real professional level-setting cue. Audition is tied internally and is not used outside of the console.
There are no remote-start provisions on this console because of lack of a stock, original system for this and also that the playback devices are closer than arm's reach to the operator.